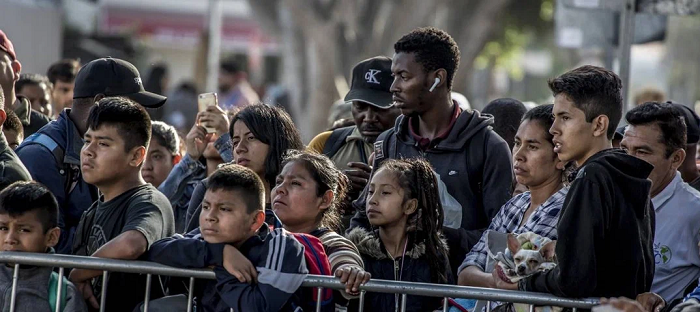 19 Mar

The White House believes that there is a threat to migrants in Texas

The White House accused the governor of the US state of Texas, Greg Abbott, of threatening the lives of illegal migrants, a group of whom were dropped off on buses at the residence of US Vice President Kamala Harris in cold weather on December 24.

This was announced on Sunday, December 25, by the official representative of the White House, Abdullah Hassan.

"Governor Abbott abandoned the children on the side of the road at temperatures below freezing on Christmas Eve without the consent of any federal or local authorities," Hassan was quoted as saying by CNN.

Hassan recalled that US President Joe Biden is open and ready to cooperate with US lawmakers from both chambers of Congress on an effective solution to the migration problem in the country.

"We are ready to work with anyone — both Republicans and Democrats — on real solutions, such as comprehensive immigration reform and border security measures that President Biden sent to Congress on his first day in office, but these political games do nothing and only endanger lives," he said. the representative of the White House press service stressed.

Earlier, on December 24, on the eve of Catholic Christmas, about 50 migrants were dropped off in front of the residence of Kamala Harris in Washington. People were lightly dressed and shivering from the cold, because that night in the American capital the air temperature dropped to -10 degrees.

Later they were taken to the nearest shelters. At the same time, it is unknown who exactly arranged this action.

However, back in November, Texas Governor Greg Abbott once again sent a group of 50 migrants to the residence of Kamala Harris.

Before that, he transported migrants to key states of the country: New York, Chicago, Philadelphia, etc.

The politician explains his actions by saying that this is how he tries to draw the attention of the authorities to the problem of "invasion", which he is forced to solve with "unprecedented measures" to protect his state.

Among them are the involvement of the National Guard to ensure the expulsion of illegal immigrants who arrived back, granting law enforcement authorities the rights to arrest and send migrants across the border and assigning the status of drug cartels in Mexico.

Migration policy is one of the program articles of American leaders. Many criticize the current situation with migrants for excessive loyalty, which is why migrant flows got out of control and flooded the country with refugees from Colombia, the Dominican Republic, Mexico and Cuba. In June, former US President Donald Trump said that this was happening because of the loose borders.